History
9-11-2004
It's really hard to pinpoint the exact start of drowssap, although I will do my best. My brother Mike and I had thought about getting a band together for quite some time. I was in a "band" before, a very disorganized bunch of guys who would get together with some illegal substances and try to perform "music". Mike, on the other hand was in a "hair" band back in the 80's called Tuesday Blade. The lead singer of that band happens to be Jimmy from Immortal Alice! Anyway, he and I were trying to play some Green Day covers (Mike's favorite) and trying to figure things out in my attic. That did not last long.
The big break happened when I bought my house. That was when we could get loud and start something good. The first lineup was me on guitars, Mike on Bass, and Kristen, Mike's girlfriend on drums. We played some covers and was having fun. We wanted to go further, but there was an issue. Kristen was not a drummer and had agreed to do her best on them until we could find one. She had never played an instrument before but it was better than not playing at all. She wasn't really into playing in the first place, but we needed to be able to keep practicing. I suggested Danny Haskell. I taught him guitar one summer and he learned pretty fast. So we decided to take a big chance. We moved Mike to drums, got Danny on bass, and moved forward. It was a risk having 2 of 3 members learning new instruments, but there was a need to move forward, and I thought that this was the best way to do this. With this lineup, we started coming up with originals. "A Street to Lakeside" was the first with "Long for the Day" coming next.
After a few months, I kept telling the band that we needed a second guitarist. We could hear that there was something missing in the music and that the songs needed to be filled out more. I am not as well versed in lead guitar as I am in Rhythm and the lyrics. Mike suggested John Tremblay who had played with us about 6 months prior for a couple of practices. He had played with Southern Rock bands for 10 years while he lived in Florida, before moving back here last year. To tell you the truth, I hesitated because of the different musical backgrounds we had. As you will se in the Members Section, we all have very different backgrounds on what we like. We decided to give it a chance. Maybe with his style of playing, it might force me to look into a different and ultimately better direction.
With the lineup in place, it was time to ditch the covers (Thank God) and concentrate on originals. Out came "Sin" and an instrumental that will eventually have lyrics when the need arises.
A turning point happened here with a new song that I constructed. I've always been a metal head and never felt the need to come up with a "poof" song. That all changed when I discovered the band Opeth. They opened a door to my playing that had never been opened before. All of a sudden, I'm playing things without the 'ol root-fifth (power chords) I've known and loved. I had a little thing that I played for a while, nothing special, just something that I thought was cool. I decided one Saturday that Damit, I'm going to make something out of this song tonight. I wrote the rhythm and the lyrics in about an hour and a half. I played and sang it for the rest of the band, and they were blown away. It really is by far up to this date, our best song. It's called "Long Gone" and it deals with a lost someone who remains nameless.
I'm really proud of this song, and the direction that we are taking with the music. I think everyone was expecting me to put together a death metal band or something, but maybe with my old age, I'm getting wiser with how a song should sound. And the delicate stuff is not something to be ignored.
We have developed a new song that the lyrics have just been written. Tentively called " A Stone's Throw". This hasn't even been played yet, but I will keep you posted as often as possible.
Thank you for your time and support, and please tell a friend.
-Jeff
New Bedford, Ma.
Band Member Bios
Danny Haskell- Bass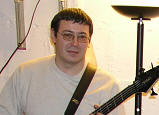 Danny learned guitar in one summer and learned very quickly. With the lack of a drummer, the switch was on and he graciously agreed to learn the bass guitar when Mike decided to be the drummer. He's been playing that now for about 6 months and we're so glad that he was as agreeable as he was. He's a valued member and he also makes a great referee when the band discussions get a little extra spirited. Now if we could only get him to get his butt out of that chair while he plays....
Danny hails from Fall River, MA.
Gear: Peavey Bass, Fender Amp
Jeff Perry (BMI) - Vocals/Guitar

Jeff shows a great knack for pulling out some neat rhythm arrangements, with a twist of his own playing style. He's always coming up with new riffs which keeps everyone else busy thinking about what to do with them. His talent for coming up with the beginning arrangements and rhythms is excellent, and he has a great ear for details within the music to add and take away things at will. Jeff's rhythm abilities can be heard in "Long Gone" and "A Street to Lakeside" where the listener can get a feel for an entire song as they hear the opening rhythm, and it progresses through the verses, creating an inherent attitude and feeling for that particular song. "A Street" is not available on MP3 at this time, but will be as soon as possible. It's an interesting task to add the sound of Opeth, with a mix of a little Floyd and top it all off with a tinge of Green Day and well... you be the judge.
Jeff lives in New Bedford, MA.
Gear: Paul Reed Smith, various Ibanez electrics, Fender Acoustic.
Amp: Line 6 Head, Peavey Cabs
Brice Johnson- Drummer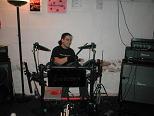 Brice grew up listening to his fathers favorite band, The Beatles. At 12 years old, his interest in playing music began. At first he tried a cheap department store guitar, which quickly became a chew toy, and he decided that he liked the idea of being a drummer. At 13, he joined the school band to learn percussion intstruments. After much deliberation, he finally got his first drum set, a 5 piece Mark II. He taught himself until he was able to play along with other musicians. Brice has been in two bands before joining drowssap, and now says that he can't imagine turning back. At home he practices on a 1997 Tama set with Zildjian symbols. At practice he plays a Yamaha electronic drum set. Altough he feels that acoustic drums are traditional, the electronic drums are more capable and condusive to his playing style. Never having to tune a drumset is just awesome in his eyes. Brice says that he really enjoys playing drums with drowssap, and that they have afforded him the opportunity to tap into many areas and many types of music, which tests his abilities and allows him to explore the whole gambit of music. drowssap has caused him to have some serious blisters on his fingers from the sticks, and he just looks at them and smiles and says, "I like it!".
Gear: Yamaha Electronic kit
Tama 5 piece acoustic
Zildjian symbols
Eric- Guitar
Eric started on guitar when he was 5 or 6, but really took off learning at about 10 or 11. At 14, he taught himself bass, and soon after, found himself in a Metallica tribute band. He switched back to guitar for another 2 bands, and has really found his playing abilities growing. His note for note playing of riffs from Mark Tremonti, and Yngwie Malmsteen are breathtaking and a absolute joy to watch and listen! His influences are numerous, Metallica, Pantera, Jimi Hendrix, Steve Vai, Richie Blackmore, Van Halen, Black Sabbath, (NIB!!!) and Type O Negative. I can say, with all honesty, he could play with ANY one of those bands. That is how much raw ability Eric has.
Gear: Jackson, Fender, and Danelectro guitars
Crate half-stack
Also has a Peavy and an Ibanez bass
Future
drowssap will continue writing songs and arrangements, and recording CD's and offering them for sale locally when available. There are no current plans for a stage show, but who knows. It's always a work in progress and anything could change at anytime. This is the very beginning of our journey and we look forward to making lots of friends and loads of music in the future.
Current Members
Jeff: Vocals, Guitars
Influences: Opeth, Death, (Chuck Shuldiner R.I.P), Rush
Eric: Guitars
Influences: Metallica, Creed, Pantera, to name a few.
Danny: Bass Guitar
Influences: Pearl Jam, Pink Floyd, Prince
Brice: Drums
Influences: Led Zepplin, The Beatles, Metallica, Marilyn Manson, Korn and Disturbed.
Past Members
Mike Perry: 2004 Drums, 2003 Bass
Influences: Green Day, The Sex Pistols, The Who
Kristen: 2003 Drums
Influences: Country/Country Rock
John: 2004-2005 Guitars
Influences: Molly Hatchett, Lynyrd Skynyrd, Ritchie Blackmore
Al Di Meola, B.B. King, Eric Clapton
Jake: 2005 Guitar
Influences: Metallica! Pantera, Iron Maiden, Dimmu Borgir,
Armored Saint, AC/DC, Offspring.
Quite the melting pot!!!